Did you know Febuary is one of the most misspelt words in the English language?

It's also the last full month of winter, meaning we can spring into action next month with slightly warmer weather.

This month we will be giving a warm welcome to a new training expert who you may recognise, and some exciting news, roadmap updates, and company objectives.


This month's hot topics are listed below. Please click the links to jump straight to the content:


What's next for moneyinfo? We have a roadmap for 2023 planned and are well on track to reach our goals for Q1. Our key benefits: Enhanced loyalty, Improved profitability, Compliance confidence, Building together, and Future ready are not only our guidelines to help us deliver our promise to our clients, but they also shape our roadmap to decide which features and improvements we want to release in the future.
Here are the highlights of our 11.2 release, our 2023 Q1 update:
Expanded timelines for client and operator
Inclusion of tasks
New and improved notifications page
Fact find improvements
Ability to reorder fields in core pages
Dependant question types
Draft Messages
Ability for client or operator to save a message as a draft
MIM App
Biometrics and in-app document scanning
BOLD, TRUSTED, TOGETHER ... We are moneyinfo !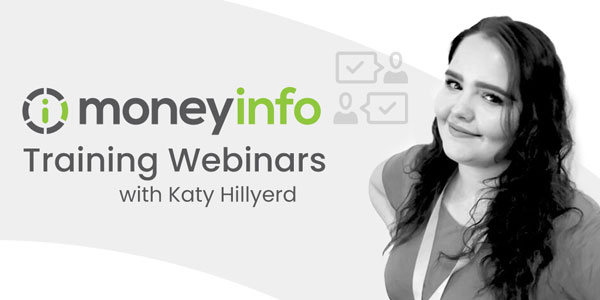 We celebrate a work culture that encourages job satisfaction, and part of that is giving our staff opportunities to progress their career. On that note, we welcome Katy Hillyerd as our new training expert who will be delivering tailored training webinars to all of our clients free of charge.

If you want to book a 1:2:1 training session with Katy about anything moneyinfo related, for you or other members of your team, please contact Katy directly on katy.hillyerd@moneyinfo.com
Click here to access any of our previous training webinars on-demand.


Hosted by our Client Services Team, our training webinars will give you an understanding of a range of topics to help you get the most out of the moneyinfo experience!

These webinars are live for an interactive experience with Q&A at the end of each session. Remember, these are online webinars for your convenience so there will be no travelling required.
💻 DocuSign Overview - Register here
💻 Fact Find Overview - Register here
💻 Secure Messaging Overview - Register here
💻 moneyinfo Manager Overview - Register here
💻 Workflow Overview - Register here


We're on our way to reaching 3,000 all time downloads of our AdviserTech Unplugged, our podcast which many of our clients and industry professionals have enjoyed listening to with their feet up accompanied by a cup of tea…hopefully.
We're really proud of how far we've come over the last 18 months, and put our popularity down to having interesting guests talking about a range of topics which aren't necessarily all just fintech.
Would you like to suggest any topics for us to discuss? Get in touch with us at marketing@moneyinfo.com to have your say.
If you need some inspiration, tune in to archived episodes of our podcast using the player here:



There's a better way to ensure you and your clients get the best out of your portal and App.

Do you feel like maybe you don't know what you don't know? Perhaps there are areas of your work that can be improved or made more efficient, we are here to help you!

You can always arrange a review meeting with us to discuss how moneyinfo can help support your business and your clients.

If you would like to talk with one of our account managers, please call 03303 600300 , or email support@moneyinfo.com to arrange a meeting.