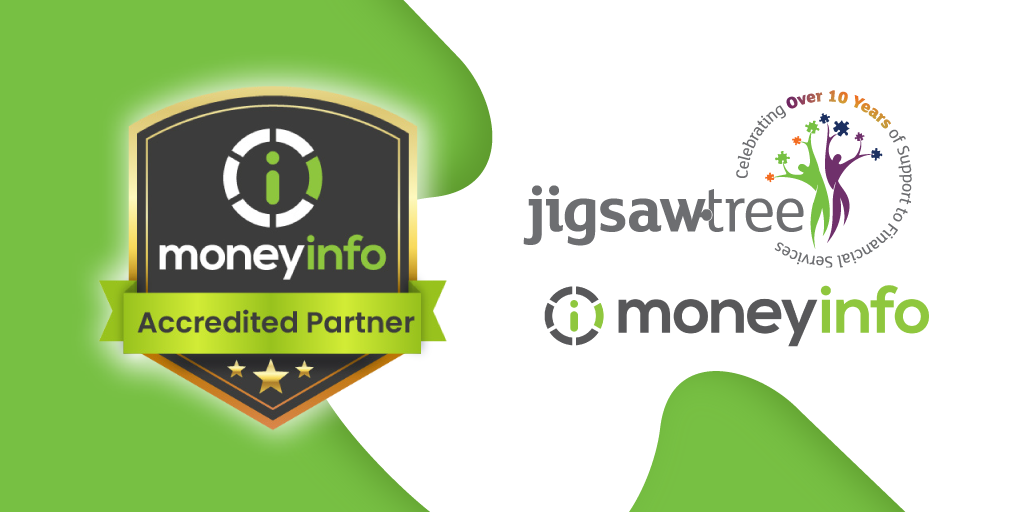 Jigsaw Tree becomes moneyinfo's first accredited implementation partner
To help advice firms to benefit from digital client engagement when they have the desire but not the internal resource to do so, moneyinfo are pleased to announce the appointment of Jigsaw Tree, a specialist business operations consultancy for financial advisers, as its first accredited implementation partner. The collaboration will enable more firms to benefit from the deployment of moneyinfo powered tools to streamline their everyday tasks including onboarding, client review and reporting processes.


Jigsaw Tree boasts a proven methodology and strong track record in implementing solutions that align seamlessly with adviser firms service models. The partnership with moneyinfo will deliver financial firms tailored workflows, customised KYC forms, message templates and access to industry-best practice to both enhance and automate advice firms' own processes.


Key highlights of the new partnership include -
Proven Methodology : Benefit from Jigsaw Tree's expertise and track record in implementing business solutions tailored to your unique needs.
Collaborative Approach : Jigsaw Tree, moneyinfo and your team working together to ensure a smooth transition from analogue to digital client engagement, making your business requirements the focal point of success.
Training Excellence : Access comprehensive training programs that deliver best practices to maximise the potential of the moneyinfo platform.
Optimised Workflows : Workflows and message templates optimised for your specific use case.
Dedicated Project Management : An experienced project manager and single point of contact to keep your project on time and on budget and address your questions and concerns throughout the implementation.


Unlock the Full Potential of Your Technology Investment.
Tessa Lee, Managing Director of moneyinfo, "As our first accredited training partner, Jigsaw Tree has a strong pedigree working with practice management systems like Intelligent Office from Intelliflo, XPlan from IRESS, and Curo from Time4Advice. Thanks to this experience, they are very well placed to advise firms on the processes that can be more efficiently supported via the moneyinfo portal and how these processes link with the back office. This collaboration will make it easier for advice firms to implement our technology when they have the desire but not the internal resource to do so. Together, we are committed to delivering tailored, efficient and client-centric solutions that drive success for financial advisers and wealth managers."



Jigsaw Tree's Managing Director, Chris Baigent-Reed, adds " We are thrilled to be partnered with moneyinfo through their accredited partner program and are looking forward to assisting firms to use moneyinfo's digital capability to enhance their client engagement. Our aim is to ensure firms can make the most out of their investment in technology, reducing processing times and costs and improving the end client experience. The moneyinfo team has been outstanding to work with and we anticipate a productive and positive collaboration with them. "

Don't miss this opportunity to revolutionise your client engagement strategy with a fully branded digital service channel for your business seamlessly complementing your existing technology investment. Contact us today to learn more about how Jigsaw Tree's accreditation partnership with moneyinfo can benefit your business.



About moneyinfo:
moneyinfo is an award winning client portal software supplier dedicated to helping financial service providers enhance their client engagement and communication. Our suite of digital solutions are a better way to business, streamlining your client interactions and improving overall client satisfaction.
Email : hello@moneyinfo.com
Twitter : @moneyinfotech
Website : www.moneyinfo.com
Phone : 03303 600 300

About Jigsaw Tree:
Jigsaw Tree is an experienced software implementation and outsourcing consultancy known for its expertise in designing and implementing tailored technology solutions for financial service providers. Accredited by moneyinfo, Jigsaw Tree combines industry best practices with a client-centric approach to drive business transformation.
Email : hello@jigsawtree.com
Twitter : @jigsawtree
Website : www.jigsawtree.com
Phone : 0800 246 5416