Learning to dance in the rain
We're living through strange times and navigating the new rules of business is challenging.
As advisers opt for online meetings rather than face-to-face it's hard to believe that when life returns to normal we won't all be changed to a large extent in how much we're prepared to travel when for many of our meetings an online conference with electronic delivery of documents is so much more efficient.
If you're not sure where to start with online meetings take a look at IFA, Ian Else, explain in a three-minute video how he's using technologies like Artificial Intelligence (AI), Calendly and Zoom for his client meetings[1].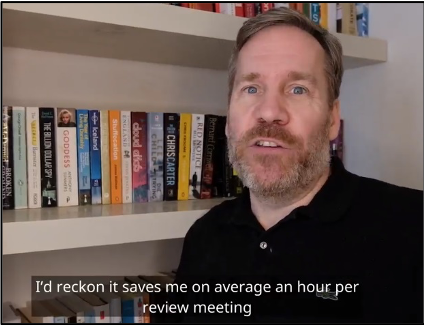 Please bear in mind that email is not a secure way for sharing the output with Ian's clients but the use of technology and AI to deliver a meeting summary is brilliant.
At this time when we all need to be in regular contact with our clients, technology is now the only way we can communicate – phone, video meeting, messaging etc. This is where a client app can make such a huge difference in providing a secure and easy way for you and your client to communicate on any of the devices they are using – laptop, tablet or phone. For your client it's secure and convenient and for you the audit trail of correspondence and knowing that your client has received and opened the messages you're sending, allows you to monitor how effective your communications are.
We can have you up and running with a client portal and app within days …
There's an interesting article on financial-planning.com from Fritz of F2 Strategy, Tech innovation in the time of coronavirus[2].
For those who hadn't got their digital strategy sorted in time, this could be a painful wake-up call.

At moneyinfo we're here to help advisers navigate this new digital world and take full advantage of the technologies that are available. We can have you up and running with a client portal and app within days allowing your staff to communicate with your clients from the comfort of their homes or wherever they find themselves.
You can use your own branded app to aid conversations with clients. Help calm nerves and remind clients to focus on their long-term objectives rather than worrying about short-term portfolio performance. Use the dashboard content management system to deliver re-assurance through blogs, videos and newsletters delivered through your moneyinfo app.
Book a 1-2-1 demo here.
The message is clearly getting through as we've seen a ten-fold increase in the number of secure messages sent and received between clients and advisers since the beginning of March. Unsurprisingly, average daily logins have also increased significantly with investors concerned about their investment portfolios.
We can support your business in obtaining approval requests and easier instructions that require a signature through our Docusign integration, significantly shortening the time to obtain responses.
It's been an interesting week, helping our clients transition to new ways of working and the main changes we've seen in the last couple of weeks, are an increase in calls to our support team requesting the Docusign integration and how to send bulk communications. Firms are clearly working hard in keeping the lines of communication going and reassuring clients in these unprecedented times.
A number of our client firms have implemented the automated online booking tool Calendly within their client dashboards allowing clients to book a slot with their adviser if they have any questions or concerns.
Calendly helps you schedule meetings without the back-and-forth emails
Zoom for video conferencing is also being used widely and we ourselves are using Zoom and Microsoft Teams to support our Business Continuity Plan with all staff now working remotely. All existing projects and ongoing development is continuing as planned with a greater focus on how we can provide advisers with even more remote working support.
If you'd like any further information on how to use moneyinfo to communicate with your clients or just need a chat on getting 3rd party tools to work, please call us, we're here to help in any we can.
Sim Sangha, business development director, moneyinfo limited.
Book a 1-2-1 demo here.
Telephone 03303 600 300. Email sim.sangha@moneyinfo.com
[1]https://www.linkedin.com/posts/simransangha_greatprofession-financialplanning-coronavirus-activity-6646305731161137152-C-64
[2]https://www.financial-planning.com/opinion/tech-innovation-for-advisory-firms-in-the-time-of-covid-19