Welcome to our monthly newsletter. Each month you can find a summary of news from across our business letting you know what's new in the world of our award-winning client portals. This month we take a look at:
Client webinar recordings - helping you get the most out of client communications
Client Story - learn how Equilibrium are supercharging moneyinfo usage in these challenging times
Our User Forum has gone 'virtual'. Join us online next month
'New ways of working' - read our 5 part blog series
---


Client webinar series
With much of the UK now working from home, your portal's secure messaging and document sharing functionality can really help you communicate easily and efficiently with your clients, keeping them informed and reassured during these testing times.
With this in mind we recently ran a series of client webinars that have been extremely well received by a large number of our client firms over the past couple of weeks. The webinars cover a range of topics that will empower our client firms to supercharge their client communications in these unprecedented times.
If you were unable to catch them the first time around, these are now available in our Communications Library via your MIM dashboard (moneyinfo manager).

Topics covered:
Keeping communications secure

Sending and storing documents securely

Delivering custom content via your branded portal and app

Launch comms and automated email campaigns

Digital document signatures

Alerting your clients with push notifications

Best practice ideas for collaborative working
We'd like to thank all of our clients who managed to attend and hope you found them useful. A second round of webinars is planned for the coming weeks, any feedback or suggestions for future webinar topics are very welcome .
---


Client Story with Equilibrium Financial Planning
Robert Douglas, Process Support & Development Specialist at Equilibrium tells us how the use of secure messaging to keep clients safe is now the default way Equilibrium communicate with clients.
Equilibrium, ahead of many businesses, moved to working from home in mid-March. At the time they were preparing to roll-out the Equilibrium client portal to many clients as part of a service improvement, introducing it at annual reviews.
The move to homeworking increased the need to communicate with clients and ensure their messages were getting through. They took the decision early to extend the roll-out of our moneyinfo portal to all clients, so they could move away from email communication because of its security flaws.
Read more in the client story here.
---


'New ways of working' - 5 part blog series
The recent lockdown further highlights the need for a secure channel to send and receive documents and messages to your clients. If you've not yet got to grips fully with the functionality availble in moneyinfo, we're able to get you up and running delivering documents and messages to your clients via your secure portal and app within days.
It's a great way to demonstrate to your clients that you're fully open for business and enhance the way you support them in these difficult days.
You can read more about how we can help you to adapt to these new challenges in our five-part series below:
---
Our User Forum goes virtual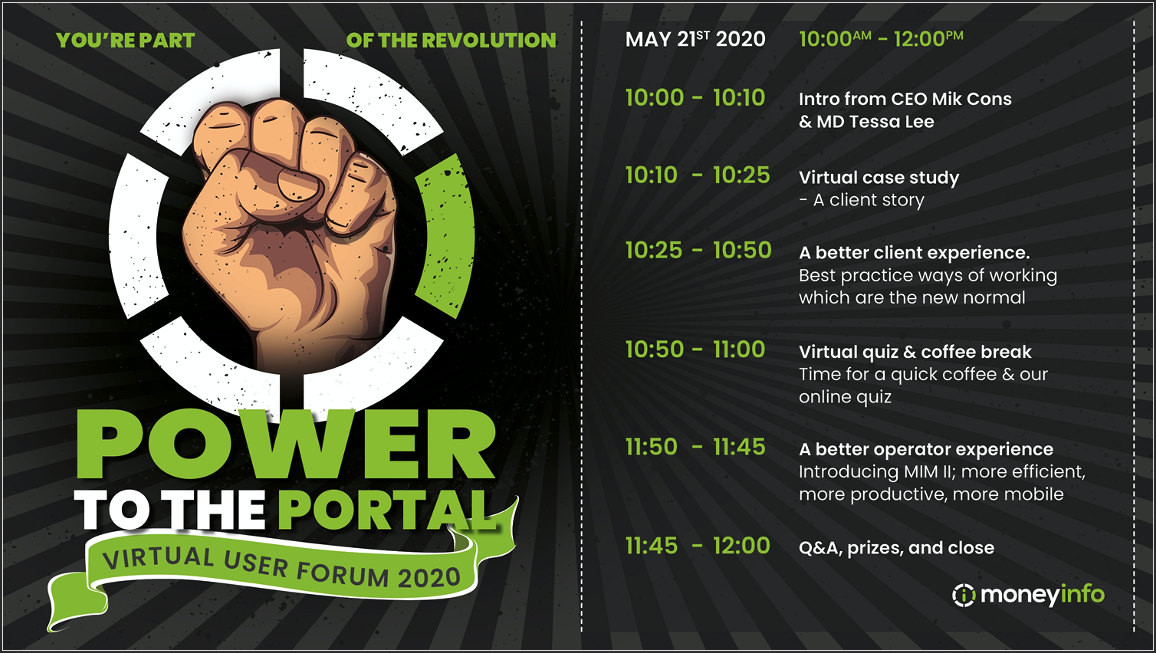 This years moneyinfo User Forum will no longer be held at the SEI offices in London on 21st May, it will now be a virtual event that will be hosted online . The date 21st May remains the same. We have shortened the timings for the day to a 2hr event which will now take place from 10am - 12pm.



Register for the virtual user forum here .
Download the agenda here .