Welcome to the February edition of the moneyinfo newsletter. Each month you get a summary of news from across our business letting you know what's new in the world of moneyinfo. This month we take a look at:
New webinar dates for your diary
Five great reasons to launch moneyinfo to all your clients
moneyinfo Support – The Top 5
moneyinfo 9.1 webinar & release of the MIM app
---
New webinars dates for your diary
This session will show you how and when it is appropriate to use the Teams functionality within moneyinfo, how to set teams up, how to assign teams to clients, and how they help you respond to client messages plus it's an opportunity to ask any questions you have on this topic.
Register here.
This session will show you how you can use DocuSign within moneyinfo together with many other hints, tips and practical examples of what other firms are doing.
Register here.
---
Five great reasons to launch moneyinfo to all your clients
To get the most out of moneyinfo you should aim to get all of your clients using it. Our strong recommendation is to launch it to your clients with auto-enrolment. Clients will appreciate you are securing their communications and organising their paperwork. Most won't opt-out once they see the benefits of having everything secure, organised and accessible. And here's five reasons why you should launch it to all your clients -
1) Better than special delivery
Whatever you've produced that needs to get to clients, your portal is the best way to deliver it. It's instantaneous and secure and your client can respond on any device they're using – their smartphone, tablet, laptop or desktop – all through your branded app. Nothing gets lost in spam or lost in the post and all correspondence is stored conveniently for your client making their lives easier.
2) Security
Your client data must be secure. Having some clients and staff messaging through your portal and some still using email makes it very hard to move to secure messaging. It's all too easy to slip back into bad habits if the old way of doing things is still an option. Don't give an excuse for emailing documents to clients and post should be a last resort when you absolutely have to get a wet signature on a document.
3) Collaboration
All your clients, all your staff and all your third parties including trustees and professional connections all have access to valuations, secure messaging and documents, subject always to permissions, ensuring all your communications are secure and audited and you can collaborate easily on any work that needs to be shared on any device you are using.
4) Process Efficiency
Having some clients and some advisers engaged and some not means you will almost certainly have to operate different process for the same work for different clients. This makes training new staff difficult, adds plenty of scope for error and let's not mention the compliance angle when there are gaps in your audit trail. Run your onboarding and client reviews through moneyinfo and you'll see immediate efficiency gains.
5) ESG Appeal
Removing the cost of paper, printing and postage is not negligible either on your purse or on the planet. Your clients will appreciate their data is secure, their paperwork organised and accessible and feel better that they are helping save the planet.
Contact us to arrange a Zoom or Teams call to plan a wider launch to all your clients and make 2021 the year that you go paperless and secure.
---
moneyinfo Support – The Top 5
We investigated the most commonly submitted support queries and have listed the top 5 below with a bit more info on how to solve them.
1) Password Reset & locked accounts
Client and Operator Password or Locked Out reset:
Operators can reset their colleagues password on MIM without having to raise a ticket with Support. This can be done by: Selecting Orgainsation>Select Action against the Operator>Manage Password.
Operators can also reset Client passwords against each individual account. However, by changing the notification settings on MIM Manager, you could have all your client password and locked out queries come directly to you. If you do not have a specific E-mail address set up, please notify the Support Team, and we will set this up for you.
2) Provider Feed Valuations
Here's what to do if you find an incorrect, duplicated and/or missing valuation.
As all Provider Feed functions vary, when raising a Support Ticket, it is best to provide us with as much information as possible. The following information will allow us to investigate your issue more quickly:

3) Notifications
Problems with your notifications not getting received. It's most often because your client's smartphone or tablet is set to not receive email or Push Notifications. This can be changed to allow email and Push Notifications to be sent on both their phone and desktop.
Push Notification Access: On a mobile device go to Settings>Notification>Find the App>Slide the bar to make visible.
Desktop Notification Access: When the client logs in they can set to receive email notification by following these steps: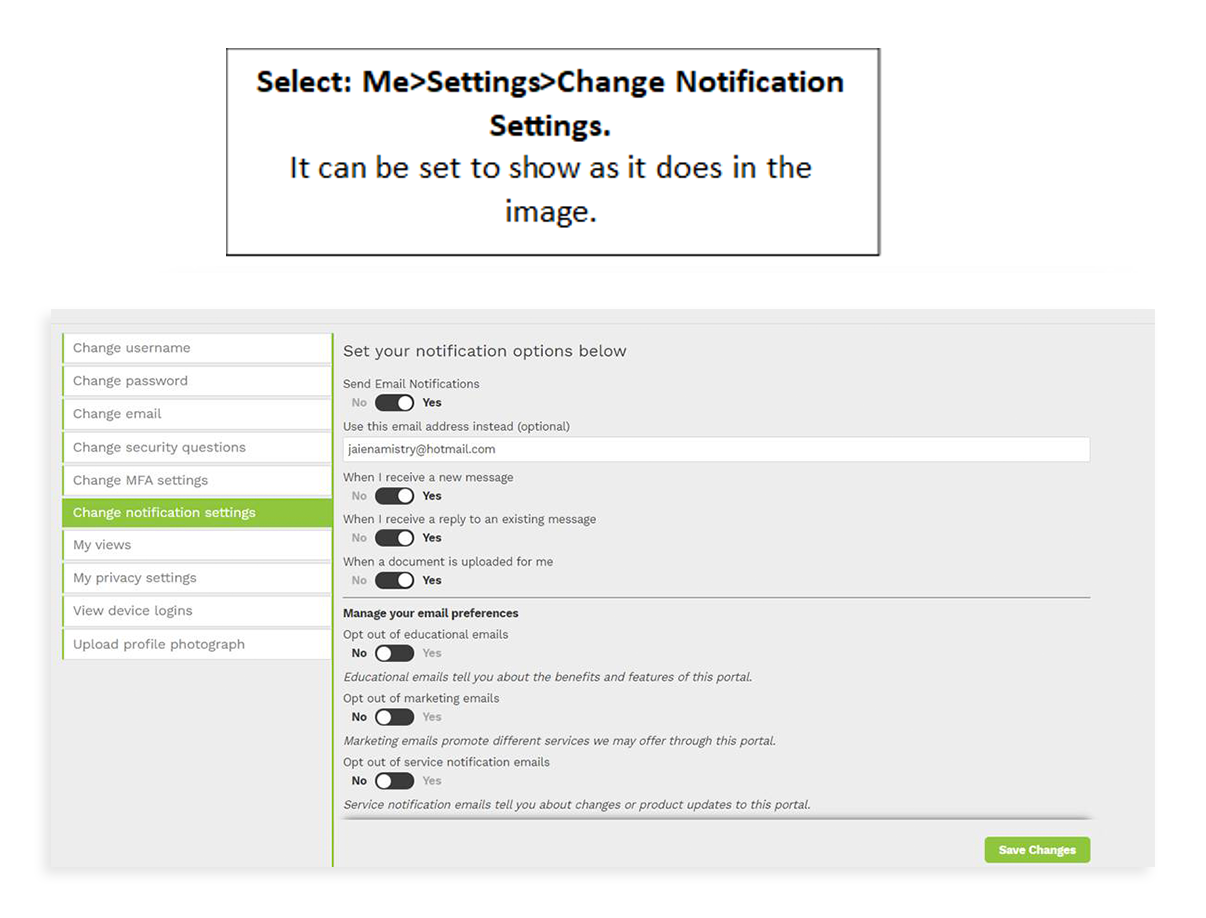 4) Custom Pods
Setting up and personalising various interactive pods such as Video Pods, Calendly and blogs has become very popular with firms.
We recorded a Webinar which is available in the Comms Library (Webinar 3 – Custom Content is King) or via Vimeo Client Webinar 3: Custom Content is King! to show how this can be achieved.
Watch the video and then contact our Support Desk on 03303 600 300 or support@moneyinfo.com to help you setup your new dashboard pods.
5) Account Refresh
Open Banking can be a little tricky at times and if it goes wrong and you need to refresh an existing Online Account then follow these steps: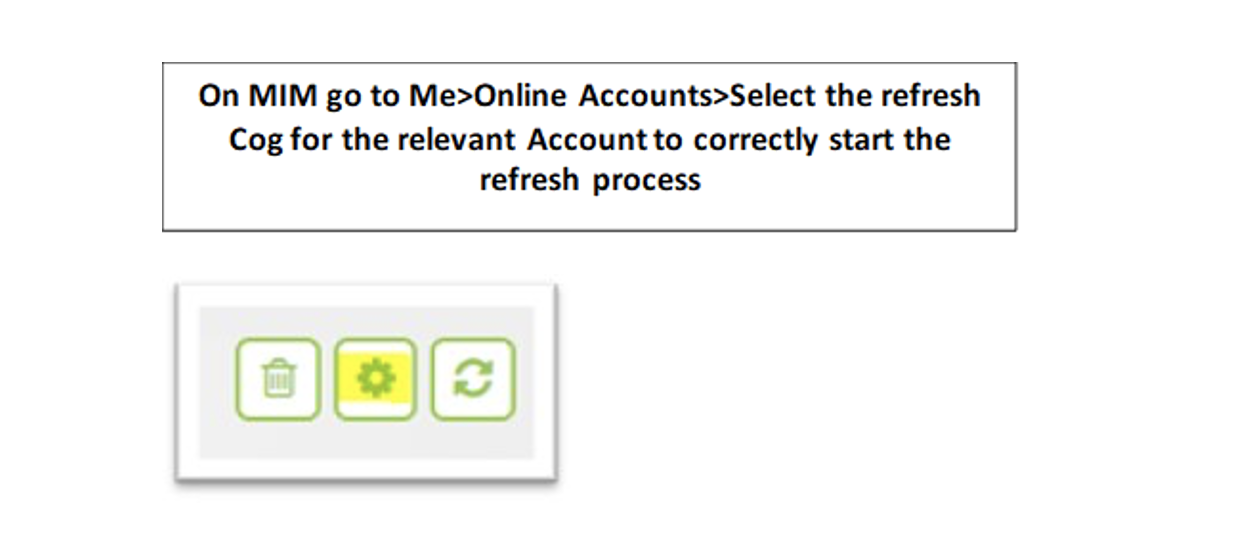 ---
moneyinfo 9.1 webinar & release of the MIM app
This pre-recorded webinar session goes through the changes following the release of moneyinfo 9.1, and covers:
- Enhanced secure messaging
- Brand new operator dashboard
- The new moneyinfo Manager App
Available now in our comms library as Webinar 18.
To access the Comm Library from moneyinfo manager – click help or click on the Comms. library option in the drop-down menu next to your username.
There's loads of other great webinars and content available in the Comms Library too all designed to help you get the most from moneyinfo.
And don't forget to download the new moneyinfo Manager app (MIM app) in the app stores:
---
Give us a call us on 03303 600300, we'd love to hear from you.
The moneyinfo Support Team.