Welcome to our monthly newsletter. Each month you get a summary of news from across our business letting you know what's new in the world of our award-winning client portals. This month we take a look at:
The upcoming release of moneyinfo 9.0 & MIM 2.0 - taking MIM mobile and other enhancements.
MIM 2.0 Webinars - Learn more about MIM Mobile and the enhanced communication features in our 2 part webinar.
Webinar Training – How to access our popular webinar series and your opportunity to let us know what you'd like covered in our next webinar series.
Welcome Onboard - Emily, Ellie & Flo join the moneyinfo crew.

---
PORTAL UPDATES
We are pleased to announce the upcoming release of moneyinfo 9.0 which brings a number of new features and enhancements.
We've taken MIM and made it mobile compatible.
moneyinfo 9.0 introduces a significant upgrade to moneyinfo manager (MIM) to improve the interface and make it mobile as well as bringing some new functionality.
Affectionally known as MIM mobile, you can now view your clients' portfolios, send and receive secure messages and upload documents wherever you are. Following the release of moneyinfo 9.0 we will be launching the moneyinfo manager app , soon to be available on the Apple App store and Google Play.
MIM 2.0 includes a refresh of the Secure Messaging pages, with the ability to create company-wide message templates. Using merge fields for basic client information will make it quicker and easier to send messages to your clients. You can also personalise your templates, including system generated messages (e.g. login confirmation, password reset, etc.) from the new Templates page.
The first change you'll notice, is that we have moved the menu to the left-hand side to provide a more modern experience, bringing it in line with moneyinfo and providing room for more features.
What else is new?
Company Operators will now be able to reset memorable words, meaning you won't have to contact the Support Team for these in the future.
The ability to change Custom Dashboard Pod descriptions, taglines and images.
Client Export now includes the Consultant/Adviser.
Insignis added to our list of supported Data Feeds.
moneyinfo 9.0 is planned for release in the week commencing Monday 6th July, subject to successful testing, and we'll be in touch again with full release notes once the new release is live.
---
MIM 2.0 WEBINARS
To learn more about the new functionality available in MIM 2.0, why not join one of our upcoming webinars?: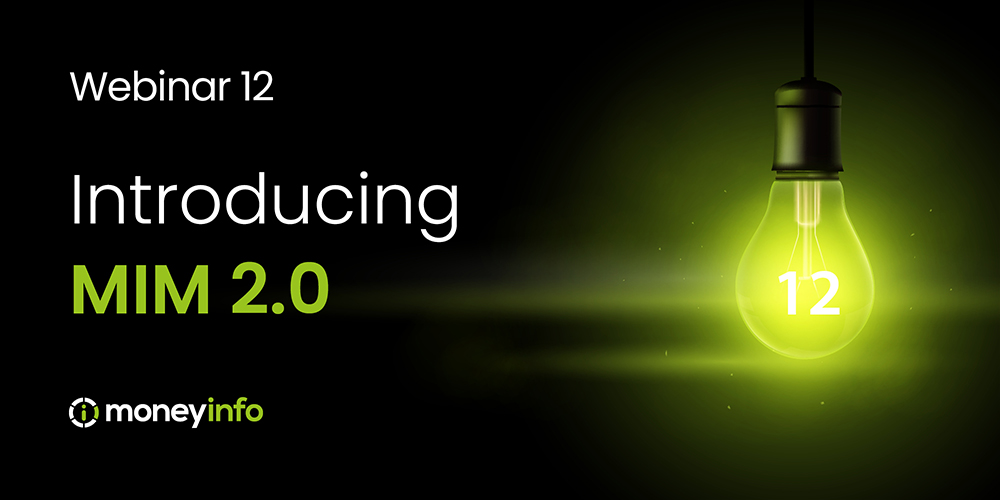 Introducing MIM 2.0 – Tuesday 14th July at 2:30pm
An introduction and overview of the updated moneyinfo manager (MIM) including;
a refreshed user experience;
new Operator functions to help you manage your clients;
enhancements to the Organisation page; and…
MIM Mobile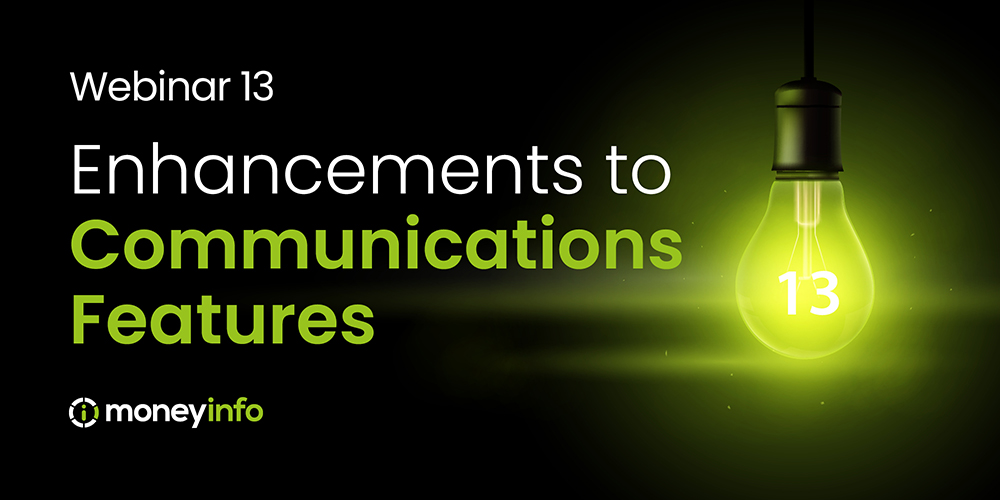 Enhancements to Communications Features – Wednesday 15th July at 2:30pm
An overview and practical walkthrough of the enhanced communications features in MIM 2.0 including:
A new screen layout for secure messaging
Secure messaging templates and merge fields
Enhancements to Document Upload Notifications
Enhancements to Document Viewing Figures
---
WEBINAR TRAINING
In case you've missed them, we've run a whole series of webinars over the three months of lockdown, exploring key areas of moneyinfo and how it can help you effectively and securely communicate with your clients.
The topics we've covered are:
Keep communications secure and carry on

A safe place for all your client's important documents brings peace of mind

Custom Content is King! Add value and reassure clients with your investment commentary, blog or other content

Easy launch communications with automated campaigns

Seamless signing saves time!

Got something big to say? Alert your clients with notifications

Come on! Come on! Let's stick together! Best practice ideas for working with your clients and your internal team

Diving into data feeds

Portal support hints and tips

Data security best practice

Open Banking
We'll be starting a new set of webinars in the next couple of weeks so please let us know if there are specific topics that you'd like us to cover. Please submit your suggestions to clientservices@moneyinfo.com
If you'd like to view the webinars, they are available in our Communications Library accessed via your MIM dashboard (moneyinfo manager).


---
WELCOME ONBOARD!

Emily Winn
Say Hi to the new kid on the block! We're really pleased to announce that in July, Emily Winn will be joining our Client Services team as an Implementation Consultant.
Emily left her previous employer in March, where she worked as Operations Manager for 14 years. Coming from a wealth management firm (who are also a moneyinfo client), means she has a fantastic grasp of how firms can get the most from moneyinfo and how it fits with your other systems.
Emily comments - "Having worked for IFAs for more than 15 years, I am looking forward to forging ahead with my new career in fintech".
Emily lives in Kent with her partner, Dan and their two young daughters. Pre-lockdown we'd have been concerned about the distance to our Henley offices but the success of video meetings has removed any geographic concerns and allows us access to a much wider pool of resources.
In her spare time, Emily enjoys cooking, gardening and when the opportunity arises socialising with her friends.

Ellie Turner
Our second hire this month is our new Client Services Adviser, say a big hello to Ellie Turner joining us from Hubwise!
Before joining moneyinfo, Ellie worked in the Client Services Team at Hubwise where she learned about investment platforms and built relationships with clients. She previously worked at Lucent Financial Planning in the Client Liaison Team, assisting clients with pension transfers and queries.
"After working as an IFA administrator for 3 years, and then at Hubwise, I am looking forward to working with a great team at moneyinfo and getting to know their clients.
moneyinfo really appealed to me as a company due to the way they communicate with their clients and they offer me a new insight into the fintech industry".
Ellie lives in Staffordshire with her partner, and dog Cassie. She loves going for long walks in the countryside and visiting the seaside, and likes to exercise and meet up with friends.
Florence Govier
We're really pleased to announce that in July, Florence Govier will be joining us as Project Support as our third new hire this month!

Before joining moneyinfo, Flo had spent the last year working in the Pre-Employment Team at Cordant Security where she would assist candidates throughout their application process.

"I've heard great things about the team, and am looking forward to working with everyone and having a strong start to a career in fintech"
Flo lives in Stourbridge with her family and (more importantly) their two cats. She enjoys baking, exercising and playing board games with her friends.