Why a CRM supplier is the wrong choice for your client portal.
Many of the firms using moneyinfo have first tried implementing a portal from their back office or platform provider. Here's what they typically think of the experience of switching to moneyinfo.
"My previous portal from my CRM supplier logically made sense but in practice you soon find out the limitations.
I was finding that I was apologising in advance of giving clients access to it. The client experience simply wasn't strong enough and it made me nervous putting my brand on it.
We wanted something which clients wanted to use on a day to day basis not just because we tell them to when we send them a communication.
When my clients eventually got into the portal, it was slow, clunky and complicated and because clients did not use it often enough they frequently had to call me for password requests which just added to everyone's frustration.
moneyinfo is the experience we have since put in front of our clients and you can see that the team have really thought about engaging the client first and then cleverly mapping it back to how we operate.
We now have our own brand in the Appstores rather than having to push our clients to download an app from a brand they do not recognise."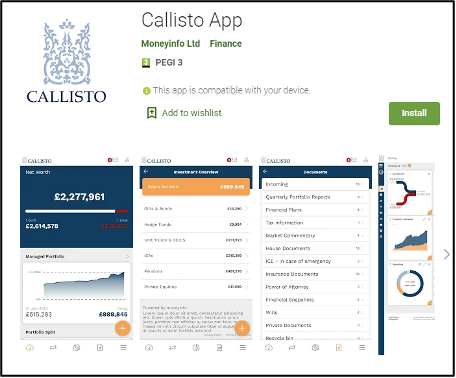 Andrew Platt, CEO, Callisto Wealth
When it comes to selecting a client portal to give your clients access to their reporting, messages and correspondence online there are a range of factors to consider.
Probably the most Important consideration is to have a portal that is not tied to your CRM supplier.
This may seem counter-intuitive but let's consider it:
The best client experience.
When you roll-out your client portal, it should provide your clients with the best experience possible. It Is the most important piece of software to get right to improve the efficiency of your business.
Your brand in their pocket.
It should be you're app that your clients use to access all of their finances, beautifully presented under your brand and fully customised to meet your exacting corporate standards.
Efficiency.
You can hide an inefficient back-office process from your clients but you can't hide from an inefficient or hard to use portal and if It's too clunky your clients simply won't use it - which defeats the object as you won't get any benefit from a portal your clients don't use.
Switching Back-Office.
At some point in the future, it may happen that you want to switch your back-office supplier. It's complicated enough to migrate all of your data and processes over to a new piece of software and re-train your staff but how much more complicated will it be, if you have to re-train all your clients as well and coordinate the switch over of both your back-office and portal together?
Flexibility.
We are the only portal supplier able to integrate with all the main CRM suppliers - Iress X-plan and adviser office, Intelliflo, Curo Time4Advice, Pulse, Pershing, iMix etc. Switch back-office, platforms and portfolio management systems to suit the needs of your business and without affecting your client experience.
You can also run multiple back-offices from different suppliers at the same time, whilst delivering a consistent client experience - very helpful if you intend to acquire other businesses.
Data Management.
Many firms we talk with are unable to consistently keep their CRM/Back office data up to date. At moneyinfo you outsource the problem of data management to us.
We manage all your platform & provider feeds for you, ensuring you deliver your clients with up-to-date valuations and we take the responsibility to fix any data issues that occur.
These are some of the reasons for choosing a portal independent of your CRM but in case we haven't convinced you, click here to see some more.
moneyinfo delivers the best client experience. Call us on 03303 600300 to find out how it can supercharge your business or click here to arrange a personal demonstration.
---
03303 600300