App users log in almost four times more often than web users
In an analysis of the 30,000 most-active clients using the moneyinfo portal during the six months between February this year and September last year, we found that app users logged in, on average forty-six times compared to an average of twelve logins for website users.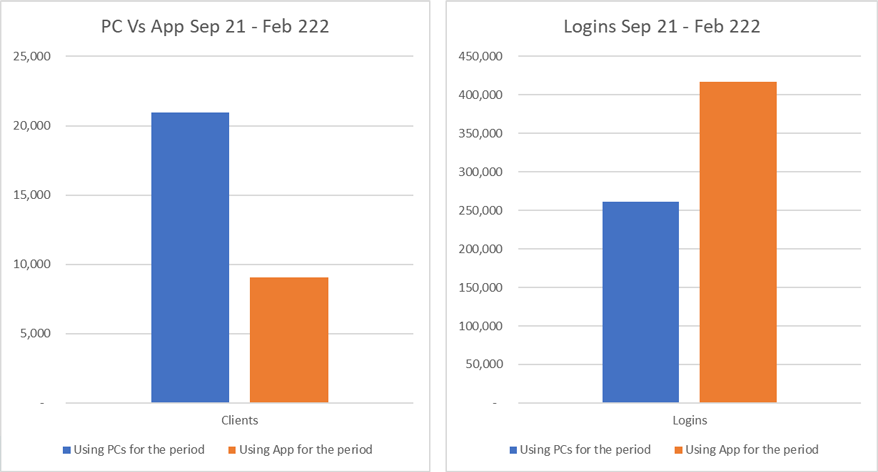 App users accounted for nearly two-thirds of the logins during this period despite representing less than a third of the total users. And of the Top 100 users, 90 were using the app compared to just 10 using the PC.


We wanted to make sure these weren't just a one-off, so we've waited a couple of months and re-analysed the data from November to April, which has continued to support that app users login far more often than PC users. See April's data below.

This reflects wider research on app usage in general, with monitoring firm App Annie [1], revealing that people in the UK spend a third of their daily waking hours, an average of 4 hours daily on mobile apps.
We may not consciously think about it, but apps allow us to use the built-in features of a mobile device. For example, keeping client info safe and secure is vital and biometrics make access simpler, avoiding those irritating password resets or calls to providers when we can't log in. An app will also us to access the camera or make a phone call at the same time.
Interestingly, the most searched iOS App Store keyword in the UK in 2021 was 'scanner app'[2]. It's likely this is due to the shift to remote ways of working in the last two years and the need for all of us to be able to easily share documents with businesses we work with.
Notifications are also more effective via an app than email. Email is now tired and overused and due to the rise in phishing and malware attacks it's no longer as trusted - as evidenced by declining click rates. By contrast, push notifications work as they provide real-time alerts to clients about important messages or documents you want to share. They nudge clients into action and drive engagement.
Critically, apps also provide easier and more secure ways to communicate. A YouGov[3] poll in March this year found that UK adults are now using messaging apps more frequently than SMS texts. WhatsApp is consistently one of the most downloaded and used apps on the planet! Advice firms need to take advantage of this by providing the same capability in their own client apps. The very familiarity of this experience should mean that clients will adopt new ways of working much more quickly and easily.
Not least, businesses that provide a client app can enhance the perception of their brand. As we all spend so much time using our mobiles every day, having an adviser's app in our view is a great way to grow brand visibility and loyalty. This is borne out by our stats which show advice firms are achieving an average of two client logins per week on their branded apps. Each time a client unlocks their phone, the adviser's brand is right there on their screen.
Apps are now part of our daily lives, from shopping and socialising to travelling and finance and it's their very intuitiveness and ease of use that drives engagement. They are simply more convenient than a website login. It's clear that advice firms need to invest in apps if they want to build client loyalty and benefit from the increased profitability that digital engagement can bring.
To learn how moneyinfo helps you achieve enhanced client loyalty, improved profitability, compliance confidence and is future ready with proven client adoption, book a demo here.
Book a demo here.
[1] https://www.data.ai/en/go/state-of-mobile-2022
[2] https://www.data.ai/en/go/state-of-mobile-2022
[3] https://yougov.co.uk/topics/technology/survey-results/daily/2020/03/10/284fd/2