Digital is for life not just for Covid
In its June Pulse survey Broadridge Financial Solutions, Inc. reports:
"For some firms, 'recovery' may mark a relative return to pre-COVID-19 conditions. However, for many, the global pandemic is accelerating a shift to a new normal. Adjusting to remote working conditions is the obvious change, but there's a broader focus on technology transformation.
Organizations that seize upon next-gen technology opportunities may widen their competitive advantage."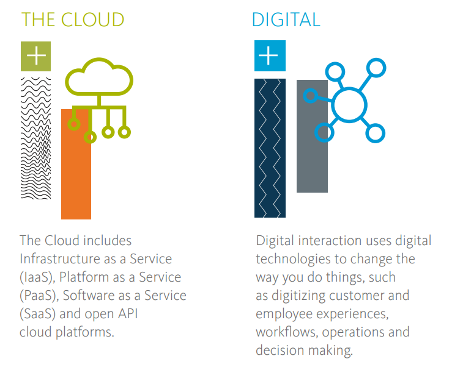 Firms have found digital interaction and cloud-based services as the most beneficial during lockdown with more than 58% of companies intending to increase spending on greater digital interaction as a result.
The Broadridge Pulse Survey compiled the views of 500 senior executives at financial organisations from 13 countries around the world. The companies ranged in size from $1bn to $500bn in AUM.
The Broadridge Next-Gen Technology Pulse Survey
"While a pandemic might seem the time for caution, firms who cut spending on innovation risk falling behind their competitors.
Businesses may never return to the "old normal"—leaving firms little choice but to accelerate their business transformation. The question isn't whether to adapt, but how.
When financial institutions can meet client demand for timely, accurate insight at a time of crisis, they build trust, increase loyalty and boost market share."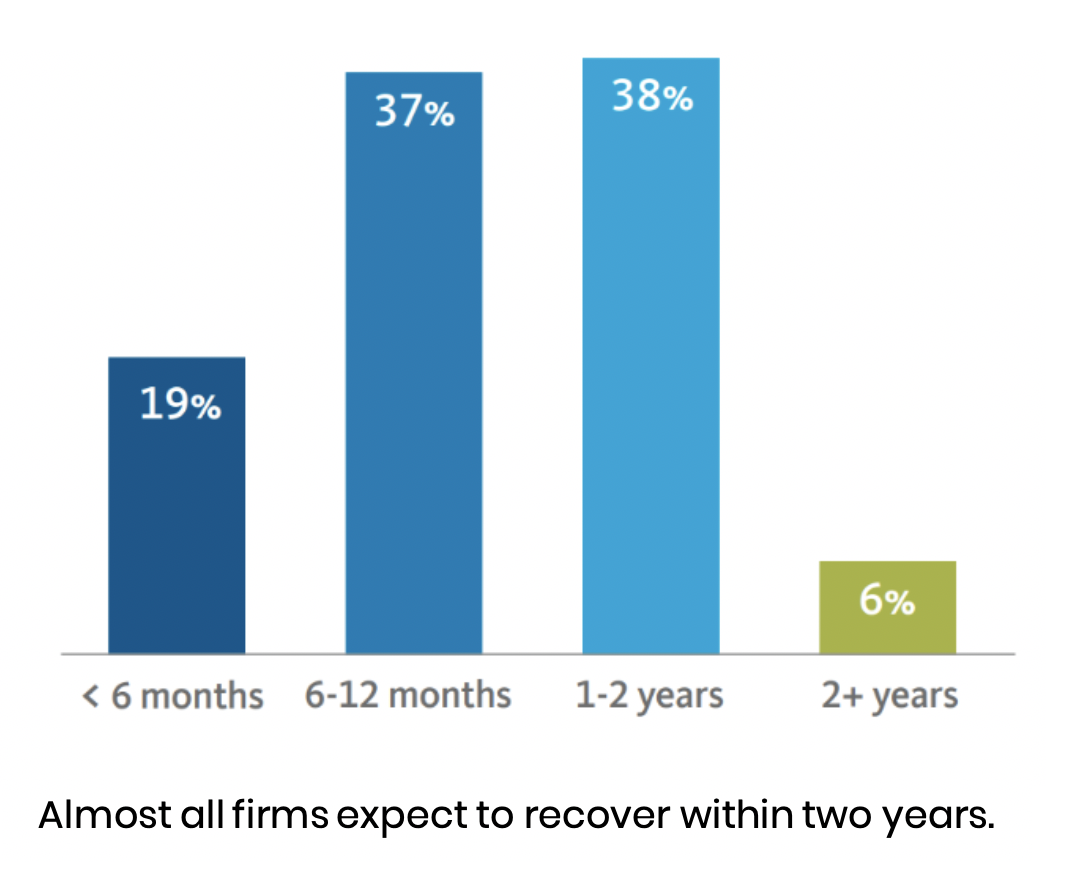 Whilst the Covid-19 crises has impacted every aspect of our lives, firms expect recovery to be swift with most expecting to recover within two years.
If you've not started the implementing your digital strategy, delaying because of the lockdown could find yourself left behind. Many of your competitors are ahead in their digital journey with 73% in their mid-advanced stages of implementation. It's not safe to assume things will be returning to the old- normal.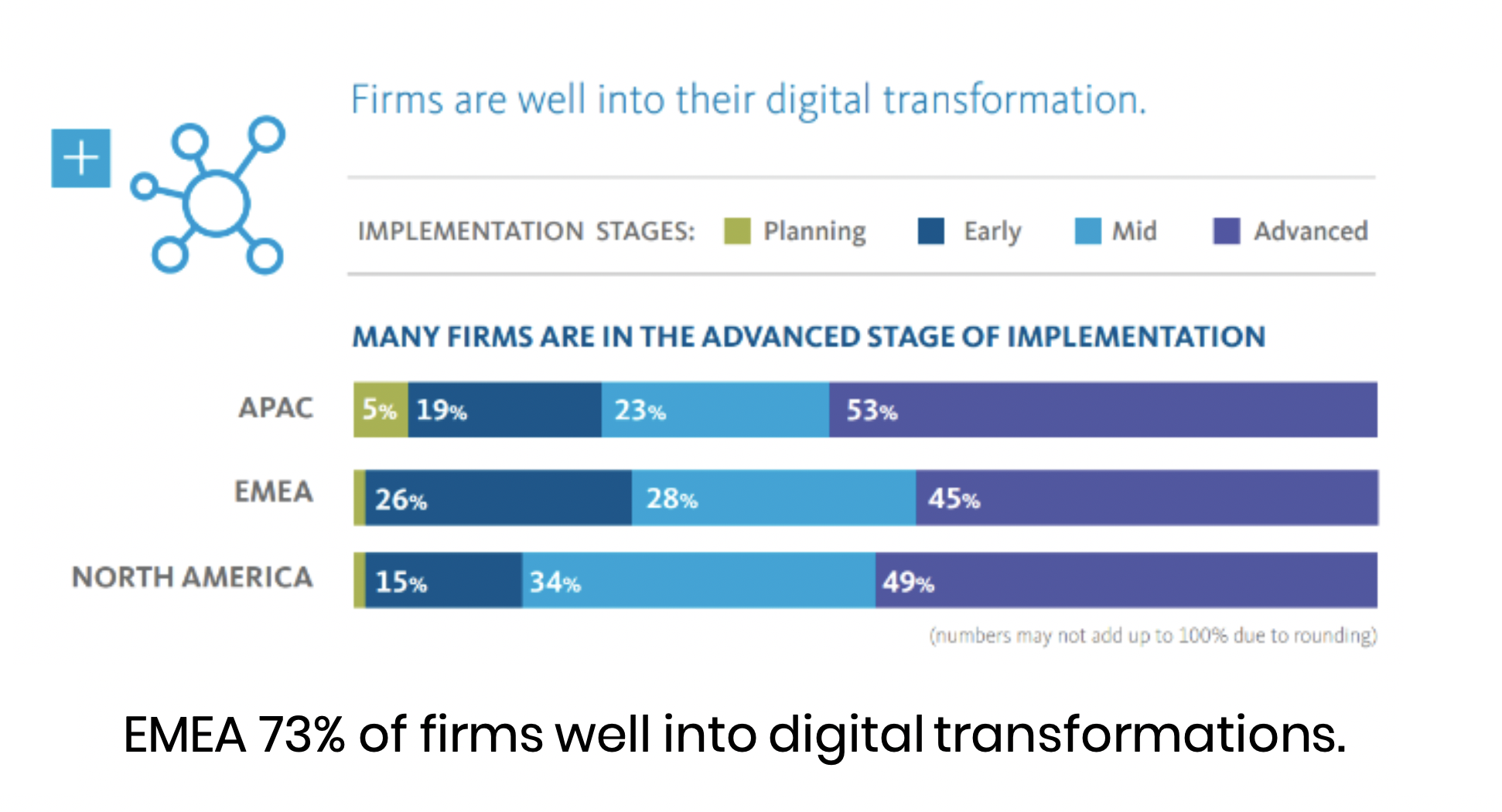 Two-thirds of firms put cyber-security and risk-management as their top priority.
This is closely followed by 60% of firms wanting to enhance their client experience.
At moneyinfo we're already helping 130+ adviser firms to adapt to the new-normal with a complete digital service channel delivering safe and secure client communications, document sharing and e-signatures to create efficient client onboarding, reviews and re-balancing with many existing processes compressed from weeks to minutes.
We'll leave the last words to Broadridge:
"Digital interaction will continue to be essential to driving customer trust, loyalty and market share even when the pandemic wanes."
"Digital interaction is not just a technology, it's a way of doing things — and about rethinking how to use new capabilities to improve how end-customers are served.
It can result in more seamless and integrated customer journeys, more cost-effective and flexible delivery of services and more data-centric operating models and decision making.
Many financial firms are using digital interaction to improve their reputation with customers and employees during the outbreak, when the need for timely, accurate communications is high."
We couldn't agree more. To view the full Broadridge survey here.
To organise a personal 1:2:1 consultation on how moneyinfo can help your business reap the benefits of a digital service channel please give me a call.
---
Sim Sangha
Business Development Director
moneyinfo limited
Book a 1-2-1 demo here.
03303 600 300