Welcome to the April 2023 edition of the moneyinfo newsletter where you get a summary of news from across our business letting you know what's new in the world of moneyinfo!
This month's hot topics are listed below. Please click the links to jump straight to the content: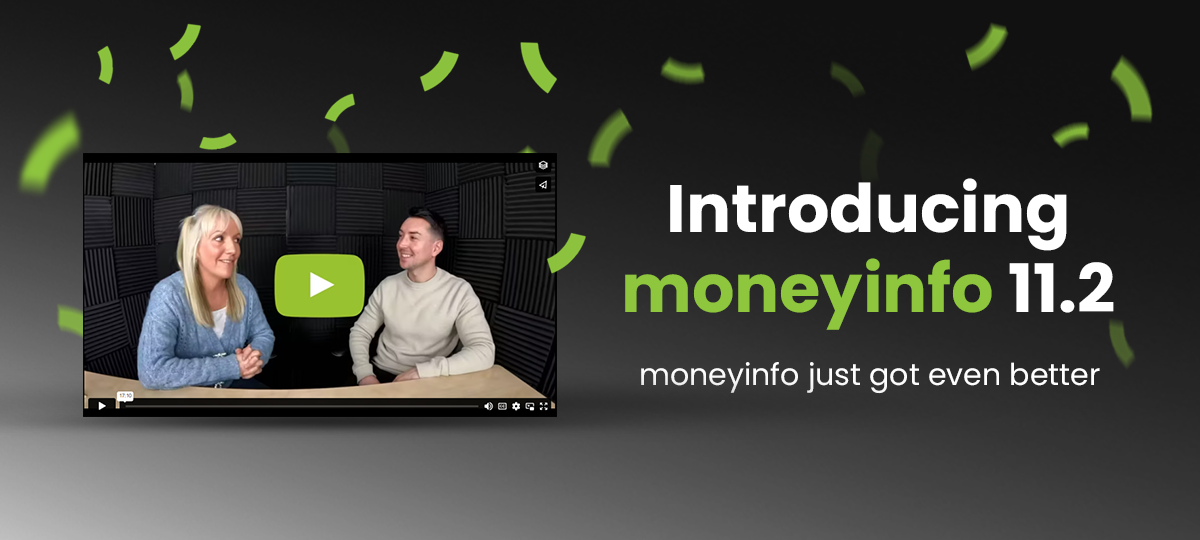 We regularly review a range of client feedback and use your suggestions to push moneyinfo's game-changing features to the next level.
It's not always easy to communicate over email how our new features can benefit you. Sometimes it's better for us to give you a full rundown of how these features work, and what they will look like to you in everyday use. So, to make the new range of feature released easier to digest, we procuced a video summary to accompany our latest release notes! This will be a new way for you to view the latest features being released going forward.
▶️ Watch the rundown of moneyinfo 11.2 here
This will include our MD Tess, and Product Owner Ryan, giving you a rundown of the new and exciting features in each new release of moneyinfo, so you can discover what's new with the same sense of excitement we have when releasing them.
What's new in moneyinfo 11.2?
Automated notifications
Get notified automatically when clients make key changes to their personal details
Biometric Access update
Access client information even more easily and securely with biometric access on the moneyinfo manager mobile app
Fact find templates
Have complete control over your KYC experience by customising your own digital factfind templates
Question branches
Create custom question paths dependent on the previous answer so your clients only see and complete what is relevant to them
Automatically saved drafts
Message drafts are saved automatically so you can work on them at your own convenience


Sign ups are now available for our online webinar event taking place on 20th June, AdviserTech Live 9. Visit the link below to ensure your place.
Explore different aspects of your operations model and learn how to scale more quickly, without a corresponding increase in time, cost, and resource. Our guest speakers will focus on areas including:
Valenta - Outsourced paraplanning and process automation
moneyinfo - Moving analogue advice processes to Digital Relationship Management (DRM)
Insight6 – Understanding what your clients' really want through Customer Experience (CX)
Plan, Grow, Prosper - Scaling automated lead generation, using AI tools
EXT Marketing – Expanding your brand to attract the right type of client
Join us on 20th June to learn from leading fintech and consultancy firms on how technology can help you to scale your advisory business.

Save the date for Advisers Assemble
EMPOWERING ADVISERS TO UNLEASH THEIR INNER SUPERPOWERS…
This years User Forum is focussed on how moneyinfo is the hidden superpower for advisers to use to deliver game-changing client engagement using powerful enhanced and updated features around task management, workflow, onboarding, secure messaging, and document sharing.
Understand how powerful new features in the MIM app make it the most powerful weapon in your adviser kit-bag, super-charging everyday business processes on their mobile devices, and allowing them not only to communicate securely with clients on the move, but also to action a wide-range of business processes without being shackled to their desks. Making them more efficient than ever before, embracing new ways of working, whilst maintaining the human-to-human connection that all of us value so much.
Our MD Tessa will kick off the day with a keynote to bring you up to date on how our leading edge digital relationship management software is evolving, then delve into what's new in moneyinfo 12.0, including the brilliant new features to enhance client onboarding, reporting, and regular reviews processes, with a focus around the MIM app, and the adviser / client relationship.
Register for one of our limited places to join us in Scotland & London in July to learn how we're making the wealth management community the best it can be, by taking client engagement to the next level, one ambitious firm at a time.
USER FORUM TICKETS HERE >>>>>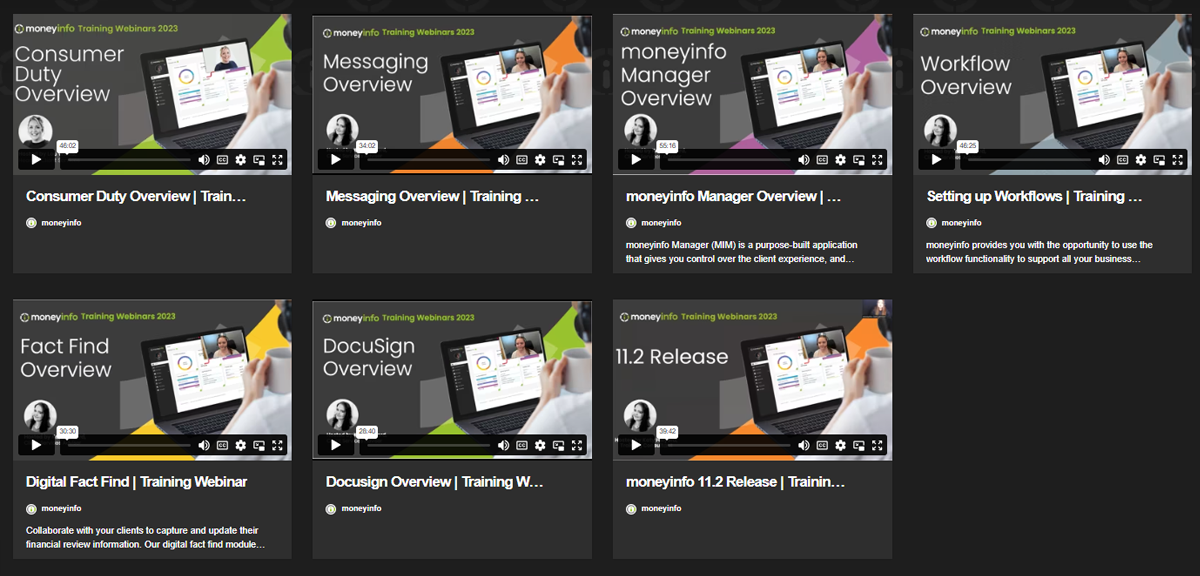 Our Training Consultant, Katy Hillyerd, recently updated some of the on-demand video content in our training webinar library. These updates reflect the new enhancements and capabilities we recently released with moneyinfo 11.2, for our Fact Find webinar video, and Secure Messaging overview video.
Katy's training webinar videos cover a range of topics, including moneyinfo Manager, Digital Fact Find, Workflows, and more. You can access the on-demand video content through the link here; we hope that you find them both informative and engaging.
As always, we are committed to providing you with the best possible service and support. If you have any questions or feedback on our training programme, please do not hesitate to contact us or request training via training@moneyinfo.com






New Season: Introducing The AdviserTech Show | Back to the top
AdviserTech Unplugged has now changed to The AdviserTech Show, our second season of podcasts brought to you by members of moneyinfo such as Managing Director Tessa Lee, Business Development Director Sim Sangha, and our Head of Client Services, Lou Wallis. This new season's theme aims to explore intergenerational wealth and how tech can help to smooth the transfer of wealth between generations, how tech can drive efficiencies with reporting and communication processes, and how tech can be used to bring the client more into the planning process. The show will cover a range of topics in WealthTech and more, with each episode featuring a special guest who will share their expertise and insights on current issues affecting the industry. With its fresh content, The AdviserTech Show is sure to bring new insights and answers to questions you've never really thought of asking.
Tune in here to our very first episode of The AdviserTech Show podcast hosted by moneyinfo's MD Tessa Lee, as she speaks to Abraham Okusanya from Timeline about how integration has the ability and potential to push efficiencies with reporting and communication processes, and the barriers that are stopping it from happening right now.

Also available on YouTube, check it out here .





Let's play Guess Who! Can you identify anyone from the moneyinfo team from the Lego portraits we created at our recent quarterly social event? We took part in a range of Lego building challenges such as guessing the portraits we made of our moneyinfo colleagues, building the highest free standing Lego tower, and creating a landmark in the West Midlands that the rest of the team had to guess.
The rest of the evening was filled with good food, a few drinks, and catch up conversations. We always look forward to our events and spending time together unwinding, it really helps us to live our BOLD, TRUSTED, TOGETHER company values.
#WishYouWorkedHere?
There are plenty of reasons to love working at moneyinfo, drop us a line if this seems like the right fit for you, or read more on our meet the team page here.


We are appointing two new sub-processors and moving our current dedicated data centre at RackSpace to the Microsoft Azure platform.
Azure is a cloud computing platform provided by Microsoft that offers a range of services for businesses, including virtual machines, databases, storage, networking, and analytics.
We are migrating our services to Azure because it offers a range of benefits, such as a reduced risk from physical hardware outages, a reduction of vulnerabilities and forced hardware upgrades, and the ability to expand required resources more easily to meet our clients' requirements.
There will be some small changes to our internal processes, but no, moneyinfo will not need to re-architect your applications to work with MS Azure.
The key questions you will need reassurance on are:
Data Security. Protecting your data is paramount and at the heart of this project. All data will remain UK based as it is now and the data security model for MS Azure is of the highest standard, matching or exceeding Rackspace in every area.
Disaster Recovery. Should we have to invoke disaster recovery for any reason, using MS Azure we can replicate our environment and be back online quickly.
We are planning to complete this migration by the end of May 2023 and although the physical migration may take a few hours, we will work to ensure the absolute minimum downtime and carry out all migration work outside of peak traffic & office hours.
We recently sent the full communication, if you need the full briefing documentation of this system change, please click here for our Azure FAQ and here for our Notice of Appointment .