Welcome to the January 2023 edition of the moneyinfo newsletter where you get a summary of news from across our business letting you know what's new in the world of moneyinfo!
This month's hot topics are listed below. Please click the links to jump straight to the content:


A growing team needs more space to collaborate and achieve great things, and guess what? January 2023 saw us pick up the keys to our shiny new offices, deep in the Warwickshire countryside in our home town of Henley in Arden; a stones throw from the M40, and just a 30min drive from Birmingham City Centre!

To ensure we continue to deliver the exceptional client service we're known for, we are continuing to invest in the brightest and best talent to join the expanding moneyinfo crew, and now we've got space to accommodate everyone under one roof!
The new offices also include new state of the art training facilities where you can join us in March for the first leg of our moneyinfo MeetUps this Spring. We also have a new podcast/vlogging suite to supercharge our content creation capacity - watch this space!
Next time you're in the Midlands, why not pop in for a coffee on your way down the M40? We'd love to show you around and introduce you to everyone in the team.

BOLD, TRUSTED, TOGETHER ... We are moneyinfo !
Check out the virtual tour and let us know what you think.




One of the key benefits of licensing moneyinfo for you and your clients is the ability to aggregate investment data from an extensive range of platforms and product providers into a single dashboard view. Sometimes it's easy to forget just how many integrations we have in place, and our coverage is always expanding! For this reason we'd like you to check out the current list of integrations which are live, and take this opportunity to let you know the following feeds will be made available over the coming months:
🖥 Current integrations list here .
Upcoming integrations and data providers:
ABRDN Wrap and Fundzone Bulk Contract Enquiry

Platform Securities

Prestwood Truth




Canaccord

AJ Bell Securities
Want to know more? View our full in-depth guide to setting up datafeeds here .


Limited spaces are still available for the next round of moneyinfo regional meetups in March. You'll have a chance to learn about best practices from other firms using our game-changing software to power their digital client engagement. These face-to-face events are an opportunity for you to meet with members of the moneyinfo team for a morning of training, and networking with colleagues from other like-minded firms who operate in your region.
If you've not done so already, you can register using the links below:
🎟 Warwickshire at our new HQ! - (9th March)
🎟 Leeds (16th March)
🎟 Bristol (23rd March)
🎟 Edinburgh (29th March)
🎟 London (30th March)



Get the most out of your moneyinfo experience with our regular complimentary training webinars, hosted by our Client Services Team. These regular webinars will be taking place online throughout the year for your convenience, so no traveling is required!
💻 DocuSign Overview - Register here
💻 Fact Find Overview - Register here
💻 Secure Messaging Overview - Register here
💻 moneyinfo Manager Overview - Register here
💻 Workflow Overview - Register here





Ultra-powerful apps for wealth managers | Back to the top
Our partnership with Third Financial allows wealth managers and financial advisers to launch their own-branded, multi-function app for clients – without the need for external consultants or costly ongoing overheads.
The interface saves time and cost for investment managers and advisers while giving them the tools to deliver an enhanced service to their clients. It provides up-to-date portfolio valuations including transaction histories and investment returns, together with periodic valuations and contract notes.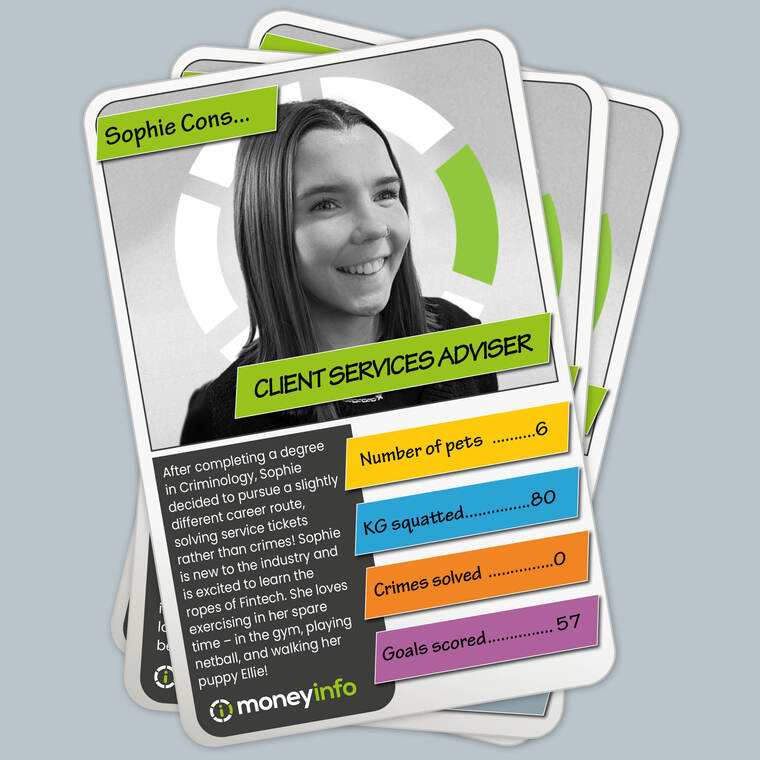 This month we are very pleased to welcome Sophie Cons as the next member of our growing Client Services team. Sophie joined us in 2021 for some work experience when she finished her degree at uni and we made such a positive impression on her that she successfully applied for a full time role with us!

Some of you may have already spoken with Soph on the phone when you call the Support Desk for assistance, and I'm sure you'll join us in welcoming her to the moneyinfo crew!


Delivering custom content via your app
As part of your moneyinfo licence, you get a fully customisable content management system that allows you create and deliver a range of communications to your clients and operators, all via your own fully branded smart phone apps for Apple & Android: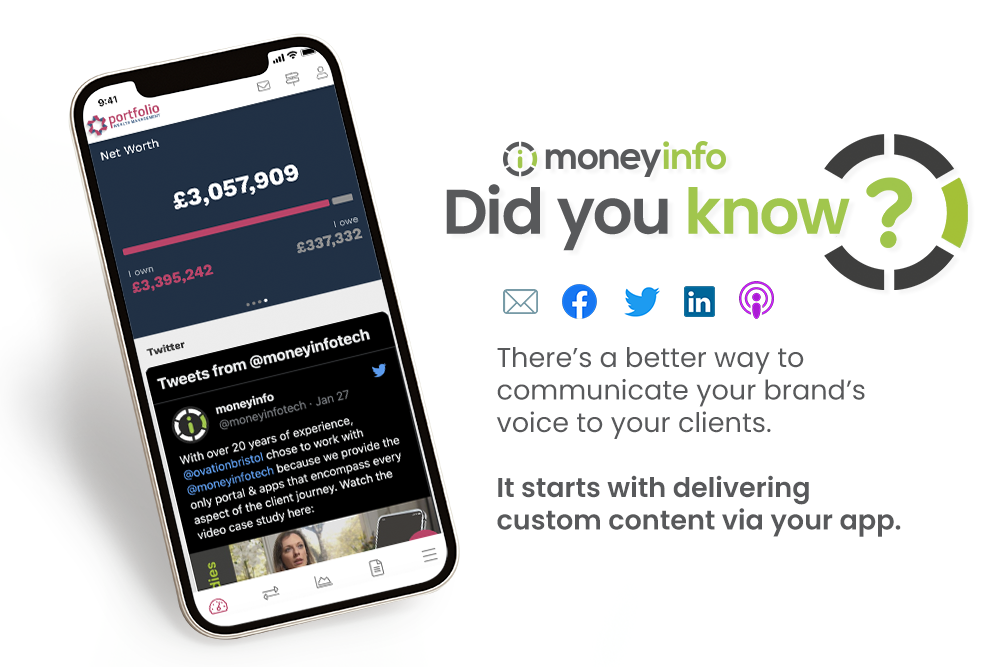 Looking for a better way to distribute market commentary or monthly newsletter? We can help with that!
Trying to launch a new podcast or video blog? We can help with that!
Looking to promote your brand personality online via your social media channels, but not everyone has a profile to view your content? We can help with that!
Get in touch with our Client Services team to learn how we can supercharge engagement with your digital service, and increase client loyalty.