Christmas Newsletter: Let's wrap up 2022
It's been another exciting year here at moneyinfo HQ, with a range of innovative product updates being released including our Digital Fact Find, Multi Currency, and our Consumer Duty roadmap. But it's the people here at moneyinfo HQ that make us great, with a number of high caliber hires joining the growing moneyinfo crew over the past year making us stronger than ever before.
Every year when we look back, we're amazed at what we've achieved, and wonder what the next 12 months might hold for us. Our roadmap for 2023 shows no sign of slowing down with many exciting announcements being made which we look forward to sharing with you in due course.
All that leaves me to say is have a very Merry Christmas from everyone in the team.
Bold, trusted, together … we are moneyinfo!
Tessa Lee, Managing Director
---
Reaching the milestone of our 100,000th client | Back to the top
moneyinfo are delighted to announce that in November we reached the milestone of our 100,000th client on the portal, continuing on our journey to service ambitious, forward-thinking, client-centric advisory and wealth management firms, with an appetite to move with the times.
We've had to box clever to compete with the big boys in Fintech and servicing 100,000 clients has taught us many lessons. We thought we might share some of them with you.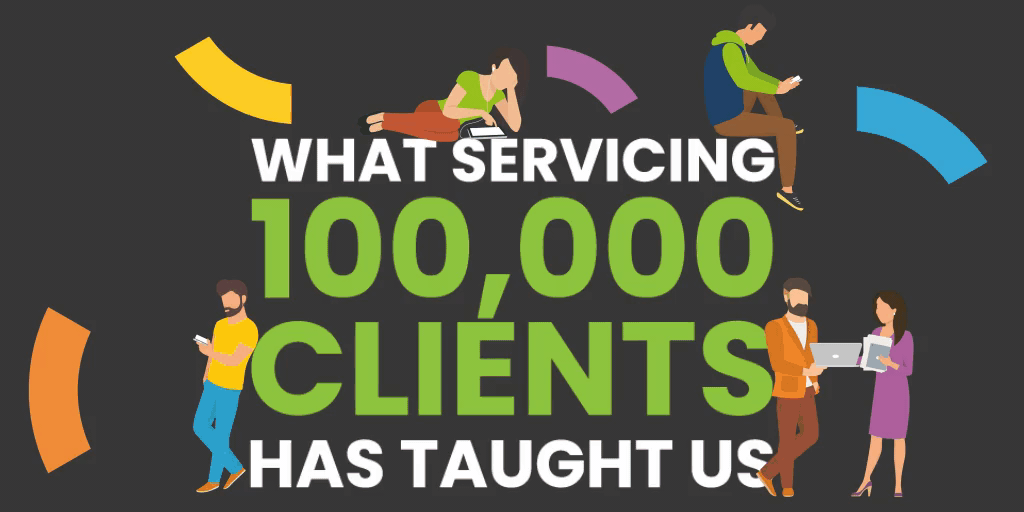 It's a marathon not a sprint. We've just reached the milestone of 100,000 clients but this is only on the way to a bigger journey to 250,000, 500,000 and then 1,000,000 clients. We are thriving because we are playing the long game and concentrating our effort and resources to deliver a consistently high-quality service and product.
Read more about what we've learned along the way to achieving 100,000 clients.
Wowing clients with moneyinfo 11.0 | Back to the top
This year we were delighted to announce the release of version 11.0 of moneyinfo (MI) and moneyinfo Manager (MIM). As always, we would like to thank our clients for their feedback and suggestions.
Client profile and digital fact find
The new client profile enables your clients to update their personal and financial details via their portal or app. The client can access their profile on any device including via your branded mobile App. Your client can complete a fact find prior to a review meeting or as part of an on-boarding process. The profile can also be completed by an Operator as part of a fact find process which you can design.

There is a template designer that allows you to build and your own Fact Find templates in moneyinfo Manager. You can build templates to suit the type of advice or business process by adding or removing sections or reordering them to suit your needs.

Read more on fact find here


Multi-currency
moneyinfo now supports multi-currency. You can set a client reporting and valuation currency with options on how underlying holdings can be displayed.

We have also introduced a new option in the portfolio page that enables a client to view account based summaries where a client group consists of a number of separate client entities based on individuals, trusts and companies.

We have also taken this opportunity to change the way holdings are attached to accounts to make them more flexible and allow for variances in the currency received from different data providers.


Workflow
We have extended the moneyinfo API service to enable other systems to integrate with workflow. This includes the ability to fetch a list of published workflows, start a workflow, abandon a workflow, change resources, check the current steps of a workflow, create a secure message in the context of a workflow, and action steps.

We have enhanced moneyinfo's API service to include workflow calls. This will enable you to utilise the API service to automate workflow processes generated from your own applications.


Clients with vulnerabilities
We have introduced the ability to identify clients with vulnerabilities and/or if they are a Politically Exposed Person. A new tab under Action>Edit>Client>Advice Information allows you to set the next review date for your client with the option to enter the last review date and the frequency for reviews. You can select individual vulnerabilities and then you'll need to add details of the vulnerability and support required.
Your secret weapon for Consumer Duty | Back to the top
Consumer Duty: You either have a strategy planned, you're thinking about implementing one, or you're not a Wealth Manager. If you're the latter, you probably don't need our advice, but for the people who think they have everything in place, you should still check out what we have to say in case you've missed anything off.
We recently held a Consumer Duty workshop with some of our client firms to talk about what the Duty means for them and how they were getting on with their planning ready for the end of October deadline.
The meeting was incredibly insightful, and we were able to share ideas about how your moneyinfo portal can help you meet the requirements of Consumer Duty whilst delivering game-changing client engagement.
We've produced a short guide on how your branded portal and app can help you not only deliver good outcomes for clients but also provides valuable management information and insight for you to use for Consumer Duty score cards or board reports.
The FCA are taking a data-led approach to supervision of the Consumer Duty and firms must be proactive in delivering and evidencing good client outcomes.
View our complete Consumer Duty guide completely online to learn how to fulfil your Consumer Duty obligations and how moneyinfo helps deliver and evidence good client outcomes.
Read our Consumer Duty guide here and watch the full presentation by Tessa Lee. No sign up required.
The importance of ISO 27001 accreditation | Back to the top
We are delighted to announce that moneyinfo is ISO27001 certified. This is a globally recognised security standard that demonstrates our commitment to information security and shows that we have a first-class information security management system in place.
The goal of ISO27001 is to protect the confidentiality, integrity, and availability of information. It covers implementing, maintaining and constantly improving an Information Security Management System (ISMS). Our ISMS ensures that we rigorously safeguard our information and that of our clients, and helps us to minimise risks and vulnerabilities. We will regularly review our policies and procedures to continuously improve our ISMS and we will be audited on an annual basis to ensure we are following the ISO27001 principles.
Everyone at moneyinfo takes the security of information extremely seriously and we are very proud to have achieved ISO27001 certification.
Celebrating the 2022 MAFTA award winners | Back to the top
Our User Forum & MAFTAs event took place in December at the RSA in London. We showcased our latest new features and some exciting announcements about our 2023 product roadmap.
We also announced the winners for the 2022 MAFTA (moneyinfo Awards For Technology Adoption) awards where we celebrate the fantastic work all our firms undertake across the industry. Congratulations to all firms that were nominated or picked up an award!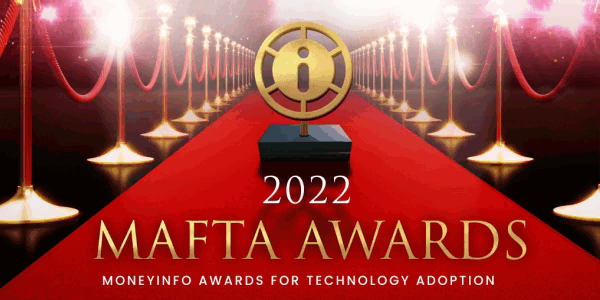 Rising Star Award
Johnston Carmichael (🏆 WINNER)
Taylor Made Financial Planning (🏆 WINNER)
Wealth of Advice
Kingswood
O-IM (🏆 WINNER)
Best Adoption Award
Sutherland Independent (🏆 WINNER)
Thorntons Wealth
Lomond Wealth
Wessex Investment Management
Sound Financial (🏆 WINNER)
Progeny
Gore Browne Investment Management (🏆 WINNER)
Hawksmoor Investment Management
Whitechurch Securities
Game-changing Contribution Award
Murphy Wealth (🏆 WINNER)
TPO The Private Office (🏆 WINNER)
RC Brown Investment Management (🏆 WINNER)
We're an expanding team and have outgrown the original moneyinfo HQ, so we'll be kicking off 2023 in our new home which is still located in the picturesque market town of Henley in Arden. The team have been squirreling away on branding our new offices to represent our bold, trusted, together values, which is looking like a really vibrant and fun space to work in.
The new offices include a couple of notable mentions; onsite training facilities which we'll be inviting clients to join us in throughout 2023, and our new podcast room which will enable us to welcome guests and deliver face-to-face video content for our listeners including a makeover of our popular AdviserTech Unplugged podcast! If you would like to be a special guest to talk to us about current topics affecting your area of expertise, get in touch!

We'll keep you updated on how this looks, don't forget to follow our socials:
We're now in our late 20's! New members of the team
How we've grown up… We have expanded quite a lot in the past few years, and although we're still a relatively small tech company, we have a big amount of talent and enough personality to compete with more traditional organisations in the industry.

We've introduced a few new names to the team that will no doubt grow even more in the next few years. A big warm welcome to all of those who have joined us this year:
Josh Pedlar – Business Development Manager
With 10 years in Finance and 6 in Business Development, Josh uses his experience to help Financial Advisers to enhance their digital footprint with Operator and Client Portals using moneyinfo. Outside of work, Josh is keen on sports including rugby, football, golf and cycling. He also enjoys traveling and cooking.
Matt Pittaway – Digital Marketing Executive
With a background in Graphic Design, Matt worked his way into digital marketing by designing emails and other promotional content for online platforms. Since then, Matt has worked on various projects to broaden his skills in other elements of marketing. Matt likes to be creative in his spare time including illustration and piano.
Chris Murphy - Service Delivery Manager
Chris has been working in IT for 12 years. He started working on a Service Desk, then moved on to a training role and finally a management role. Chris puts a big focus on customer experience and people development. Although his favourite musician is unironically Robbie Williams, we're still happy to have him on the team.
Ryan McCarthy – Product Owner
With over 13 years' experience in the financial services industry, Ryan delivers the moneyinfo roadmap. But when he's not delivering awesome software, Ryan can be found Djing, watching Sunderland play football or out and about with his wife and two children, Leo, and Millie.
Zubair Khalid - Client Service Adviser
Zubair has a background in retail, joining a small vintage clothing company after leaving school. Following this he spent several years as a IT and tech recruiter. Having learnt a great deal about us as a recruiter, Zubair decided that this would be the perfect place to begin his career in support. In his spare time Zubair occasionally plays basketball in a desperate attempt to disguise his more nerdy impulses.
Goodacre UK Systems in the City Technology Awards
We were shortlisted in April for the annual Goodacre UK Systems in The City Awards in three categories. We were joined on our table for a very enjoyable afternoon by clients and guests from Kingswood Group, Shard Capital, Barnaby Cecil, Gore Browne Investment Managment, and Minerva Fund Management Solutions Limited.
The fantastic news is that we picked up the 'CREALOGIX Award for Best B2C Digital User Experience'! The cross industry recognition from both our peers and clients is a very strong endorsement for moneyinfo and will help us to further support the Wealth / DFM sector with our market leading tech.
The awards represent and recognise outstanding performance and innovation across the industry, and we were delighted to have not only been part of the event but to be able to walk home with a trophy! What a fantastic achievement for the whole team here at moneyinfo.
Without the collaborative approach to development that we share with our clients, sharing ideas, joining our pilot groups, and actively engaging with our team, we would not have been able to build the award winning system we have today.
So a big thanks to all involved in supporting us, and of course thanks to Goodacre for hosting the event!
Money Marketing 2022 'Adviser Technology Provider of the Year' award
We were excited to announce that moneyinfo were shortlisted for the Money Marketing 2022 'Adviser Technology Provider of the Year' award!
Being shortlisted is a great achievement, so a big thanks to the Money Marketing team and those who made it happen.
Although we didn't win, it was great to be a part of such a big event and to be recognised by one of the biggest reporting bodies in the industry.
Citywire New Model Adviser Top 100
It's not all about us, we also would like to congratulate many of the firms who were part of the Top 100 New Model Advisers List from Citywire who are powered by moneyinfo.
A massive congratulations to all firms that reached the prestigious 2022 Citywire Top 100, as ever the list is full of inspirational firms making a positive impact on clients and communities. 🏆🏆🏆
We work with ambitious, forward-thinking advisory and wealth management businesses and we were extremely proud to find out that 27 of this year's Citywire New Model Adviser Top 100 firms trust moneyinfo to power their digital client experience.
This includes firms such as Progeny, Investment Quorum, The Private Office (TPO), and Equilibrium, alongside smaller chartered financial planning firms and family offices.
Many of these businesses already had a portal in place when they selected moneyinfo but recognised the value in achieving higher levels of automation to their everyday processes such as onboarding and client reviews. The results are stronger customer loyalty, improved profitability, and compliance confidence.
Financial Times Adviser
We were extremely proud to have been featured in FTAdviser twice this year!
We put so much work into conducting research with our current adviser network and after analysing feedback from 250 advisers, we were published in FTAdviser for our findings. We also want to thank everyone who took part in this survey, we of course couldn't do it without you.
From this, one of our biggest findings was that 40% of advisers onboard new clients with no technology support from their DFM.
With new industry regulations being introduced, and the increasing trend of adviser consolidation continuing, we sought to understand the current climate better, whilst considering where the industry is headed, and what it may mean for you in the future.
We found evidence to suggest that the opportunity to improve those relationships by using digital solutions is not being sufficiently exploited.
Find out more here on advisers' demands, desires, and dissatisfactions
Our Managing Director Tessa Lee also spoke to FTAdviser about the use of email from advisers, with concerns around quantity and safety making the headline.
Whilst some progress has been made by advice firms in identifying the data risks inherent in emails, Lee said there was still "more to be done" to shift the advice industry away from email to more secure messaging channels.
"There is more of a realisation amongst adviser firms around data security than there has been," Lee told FTAdviser.
Fact find: IFA Magazine, Citywire and Financial Planning Today
We're delighted to have been featured in IFA Magazine, Citywire and Financial Planning Today around our newly launched Fact Find!
We reached headlines about our news on launching Digital Fact Find, which allows advisers, wealth managers and DFMs to gather fact find information from clients via their own branded app.
We're pleased to be featured for our continued commitment to pushing the fintech industry forward, thank you to all those who have helped in the process and all publications for featuring us.
Read more on fact find here:
IFA Magazine
We also announced our partnership with Third Financial, allowing wealth managers and financial advisers to launch their own-branded, multi-function app for clients – without the need for external consultants or costly ongoing overheads.
The first example of the Third Financial and moneyinfo strategic partnership was the Kingswood Go app, which integrates moneyinfo's advanced client experience software and Third's investment platform service.
Our Managing Director, Tessa Lee commented: "This integration with Third Financial is easily our most significant and detailed integration to-date in the wealth management space, eliminating the need for investment managers and advisers to manage their own data extraction or employ external consultants."
Introducing the moneyinfo benefits framework | Back to the top
We spend a lot of time refining and developing our app, and because we're constantly evolving and adding new features to our service, it can be hard to summarise everything we do in a quick, bitesize paragraph. So, to tell our story and brand purpose to new prospects in a digestible way, we developed a new framework based around the benefits of using moneyinfo from a Wealth Managers point of view, as all the new capabilities we introduce to the app can fall under these five categories:

Enhanced loyalty
Moneyinfo complements your service and perfectly reflects your brand. It demonstrates your commitment to data security and puts your clients at the heart of your proposition. Helping you to build trust with new clients, increase the frequency of engagement with your existing clients and enhancing your client loyalty.
Compliance confidence
Our app ensures that all your communications are secure and encrypted, so your clients' data is always protected. And with a full audit trail, you get total compliance confidence. Peace of mind for you and your clients.
Improved profitability
We make every single touchpoint more efficient. Less paperwork, automated reporting and full integration with your platforms, providers and the other technologies you use. Saving you time and improving profitability for your financial advice or wealth management firm.
Building together
Responsive telephone support, free training, regular user forums to encourage idea sharing, and your dedicated adoption manager ensure we build the perfect solution together.
Future Ready
Our app is constantly evolving to give you the best possible solution for your clients, now and in the future.
We switched around a few things on our website to make our Key Benefits the star of the show. Visit our website to see all our new key benefits and hear our Managing Director, Tessa Lee, speak about each of these in some brand-new video content.